Sugar Professional simplifies how your company organizes and tracks people, companies and sales opportunities.
Sugar Professional is:
For the Home Run Business
For the Small to Medium Business
For A Hosted Solution
For An On-Site Solution
For Any Industry (Real Estate, Finance)
For the Budget Conscious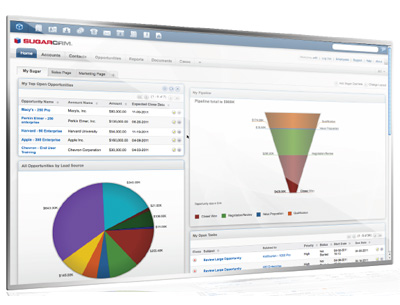 Sugar Pro - More Information


Boost Team Productivity

Sugar Professional automates everyday, repetitive sales tasks, so your salespeople can spend more time in front of customers - closing more business - and less time on administrative overhead. Your team will love using Sugar and your customers will love how your sales team's keen insight enables them to tailor their sales efforts to your customer's needs.
Get CRM that Works the Way You Work
Sugar Professional organizes sales, marketing, and support information in a single application that keeps CRM simple. It's easy to use and easy to modify. Sugar's intuitive interface doesn't disrupt your business processes and guarantees easy adoption by your team members. The road warriors on your team can access all vital customer information from the award-winning Sugar Mobile application. Discover for yourself why, according to a recent Gartner study, Sugar is one of the top 3 CRM applications in the world.
Grows with Your Business
Award-winning Sugar Professional is recognized for the ease-of-use and flexibility of its open architecture. It adapts easily to your unique or changing business processes: alter the look and feel of the application, add custom fields or modules, integrate with third-party or legacy systems. Sugar Professional is CRM without limits.
Stay in sync

Better coordinate your efforts when speaking to customers, because you and your team have access to all the same relationships details in SugarCRM. Your team appears completely in sync to any customer they interact with, no matter who they talk to most often. And, you can lock down as many of the details as needed to keep sensitive customer information secure