ACT! by SAGE is the world's #1 selling contact and customer manager. It is well known and widely used. It enables you to instantly access key contact and customer information, manage and prioritise activities as well as track all contact-related communications so you can grow productive business relationships.
ACT! has the capability of generating reports for a complete view of customer dealings and interactions. It will greatly improve your bottom line by forecasting and tracking customer opportunities.
Renowned for its ease of use, ACT! can be tailored for a specific industry or for everyday use. Integration is also possible with products such as Microsoft® Office, Google and many handheld devices.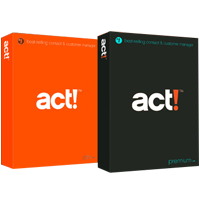 One of the greatest and most important features of ACT! is that you control and own your data. ACT! for web and remote use is possible for teams on the move BUT your Company intellectual property remains yours at all times - unlike products like Sales Force and other hosted CRMs, where your data is retained & owned by a third party. With ACT!, you control the data. You own the data. You manage the data.
The freedom and control is second to none!
ACT! is an easy to use solution which offers very low total cost of ownership.
Database Partners is thrilled to provide you with all the ACT! by SAGE products. We are the most cost effective partner to have on board and we look forward to working with you.
ACT
Single User
Ideal for businesses where only one person needs to access ACT!
ACT
Small Business
Ideal for businesses where less than ten people need to access ACT!
ACT
Corporate (10+ Users)
Ideal for medium to large businesses where many people need to access ACT!
ACT
Upgrades
Upgrade to the newest of ACT! now!
ACT
SMS
Send SMS Messages through ACT! with our SMS Utility!
ACT Reports
for Google Maps
View a map of all of your ACT! contacts!
ACT
Add Ons
Adding extra functionality to ACT!
ACT
Email Marketing
Integrate your Email Marketing Campaign with ACT!
ACT
Mobile Data
Access your contacts from your mobile device
ACT
MYOB
Connect your MYOB database to ACT!
ACT
QuickBooks
Connect your QuickBooks database to ACT!
If you have any questions, or you are unsure which product you need reach us by phone on 1300 791 327 or send us an Email