Sugar Corporate simplifies how your company organizes and tracks people, companies and sales opportunities.
Sugar Corporate is:
For Any Size Business
For an On-Site OR Hosted Solution
For Mobile Access
For Any Industry (Real Estate, Finance)
For the Budget Conscious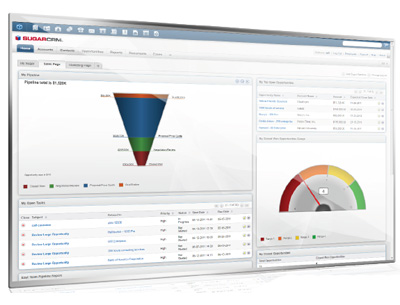 Sugar Corporate - More Information


CRM Made Simple

Sugar Corporate centralizes sales, marketing and support information, to boost employee productivity and improve executive visibility into company performance. Sugar works the way your company works; it's easy to use, configure, and extend, to grow and change with your business.
Advanced Mobile Capabilities

Sugar Corporate includes Sugar Mobile Plus, providing real-time and offlinesync CRM integration with Android, BlackBerry and iOS (iPhone/iPad) mobile operating systems. Your road warriors can access contacts, opportunities, sales, and more. Within seconds, they can update emails, meeting notes, and call reports to Sugar from the road, a customer site, anywhere! Offline capabilities and preloaded data give your mobile team CRM access even in mid-flight or where there is no mobile connectivity.
Extended Support from the Market Leader
Sugar's support has been proven by our customer base of more than 7,000 companies in over 30 countries. Sugar Corporate includes enhanced support to better meet the needs of larger businesses: longer support hours and a 50% faster response time, compared to Sugar Professional. In addition, when you subscribe to the Sugar On-demand service, you get 30GB of storage and a development sandbox.
Stay in sync
Better coordinate your efforts when speaking to customers, because you and your team have access to all the same relationships details in SugarCRM. Your team appears completely in sync to any customer they interact with, no matter who they talk to most often. And, you can lock down as many of the details as needed to keep sensitive customer information secure