Sugar Enterprise simplifies how your company organizes and tracks people, companies and sales opportunities.
Sugar Enterprise is ideal for the following:
For the Larger Business
For an On-Site OR Hosted Solution
For Mobile Access
For Advanced Reporting
For Customer Interaction
For Any Industry (Real Estate, Finance)
For the Budget Conscious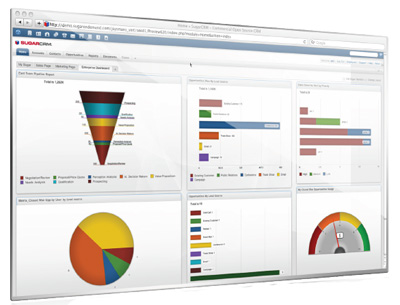 Sugar Enterprise - More Information


Powerfully Intuitive
Sugar Enterprise includes all the capability and functionality expected in the most sophisticated customer-facing applications. Add the ease of use that's a result of the industry's most intuitive user experience and you'll see why people simply love using Sugar. No compromises, just great CRM.
Open and Flexible

Use the CRM solution that fits your business processes today and in the future. Sugar's open source platform provides unlimited flexibility and control over your CRM deployment. Make unrestricted customizations, integrate with any third-party or legacy system using Web Services or Enterprise Service Bus (ESB) solutions, or build completely new modules with easy-to-use administration tools.
Make Your Business Stand Out

Give your customers a differentiated experience and separate your business from your competition with Sugar's powerful tools. Take advantage of Sugar's exceptional value and build a completely unique customer experience at a cost that is right for you.
Stay in sync

Better coordinate your efforts when speaking to customers, because you and your team have access to all the same relationships details in SugarCRM. Your team appears completely in sync to any customer they interact with, no matter who they talk to most often. And, you can lock down as many of the details as needed to keep sensitive customer information secure