Sugar Community Edition is a free alternative that still has many of the important features that makes SugarCRM and robust Client Relationship Management system.
Sugar Community Edition is:
For Personal Use (Committees, Events etc)
For the Home Run Business
For the Small to Medium Business
For A Networked Enviroment
For Remote Use
For Any Industry (Real Estate, Finance)
For the Budget conscious
Call us today for a free trial: 1300 791 327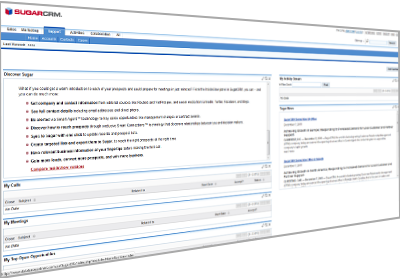 SugarCE - More Information
SugarCRM is one of the world's most used CRM system. With more than 250,000 community members, 25,000 developers and over 850 extension projects, Sugar users are in good company. With SugarCRM, you can run the software wherever you like, all you need to use SugarCRM is your web browser. You can make unlimited changes without restriction. It's CRM software that works for you, not the other way around. SugarCRM gives users control. Unlike other CRM systems, you own your data and never have to worry about being locked-in to a service. With Sugar, you, the customer, calls the shots! If you are a sole trader or a small business just launching out, the SugarFree is for you.